The Day I seized The InterWeb – HTTP Status Cats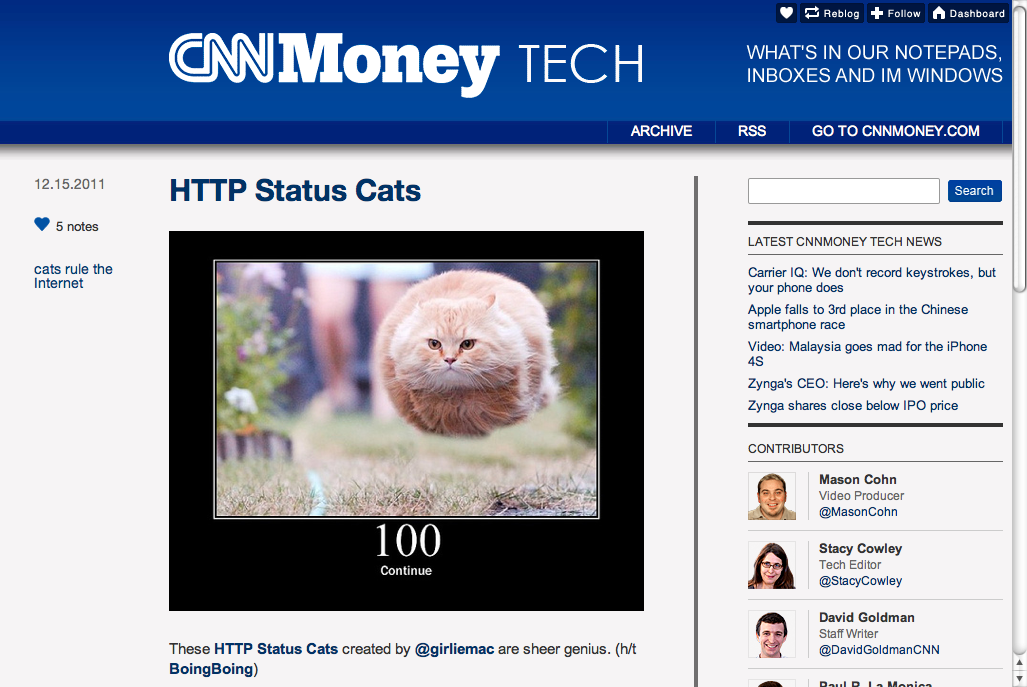 I thought my biggest achievement of 2011 was the (un)successful launch of HP TouchPad, and the European tour to advocate the webOS development… but I should nominate the seizing the InterWeb before the government does (SOPA), for my greatest achievement of the year.
I got the certified cat geek lady status on the InterWeb, after my HTTP Status Cats went viral on Dec. 13th.
Within 24 hours I posted the pictures on my Flickr page and tweeted, it has spread all over the InterWeb, and now the status kittehs are officially an Internet meme.
What the meme does? It results the secondary and ternary awesome creations-
What made my day was Rogério Vicente has create the API with the cats.
And Heroku actually made it available. (This was made #2 spot on Hacker News on Dec.14th).
This is awesome. I love when fellow geeks make things into the higher level.
In case you have not seen the HTTP Status Cats:
See my Flickr set at http://www.flickr.com/photos/girliemac/sets/72157628409467125/detail/
I will post the missing status soon.
More Links
The HTTP Status Cats is featured on:
BoingBoing – HTTP status cats by GirlieMac: classic server error codes, now with cats
LaughingSquid – HTTP Status Cats, HTTP Status Codes Displayed Using Cat Photos
Neatorama – HTTP Status Codes Illustrated by Cats
CNN Money Tech – HTTP Status Cats
Mashable – HTTP Status Cats: Hilarious Motivational Posters [PICS]
I Can Has Cheezburger? – HTTP Status Cats
Translated to Japanese media:
らばQ – なんてわかりやすい…猫で覚えるネットのあの表示
Idea*Idea – HTTPステータスコードを猫で表現してみた
---
comments powered by