Mobile Safari for iPhone 3 includes Geolocation
Although W3C's document, The Geolocation API Specification is still in draft state and not yet finalized, major browsers are working to support this functionality and as we all expected, Mobile Safari is not an exception.
According to ComputerWorld blog, the geolocation API has been implemented for the upcoming API. Apparently, Seth of ComputerWorld tried the test webpage, built by Doug Turner for Mozilla on a 3.0B5 iPhone's Mobile Safari.
This screenshot is grabbed from the CompWorld's blog.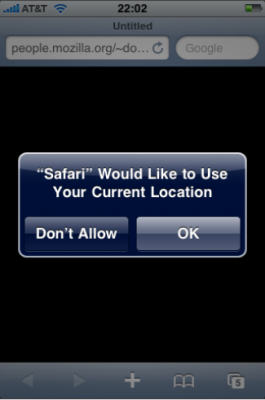 Obviously I don't have access to the new iPhone so I just tested the test page (http://people.mozilla.org/~dougt/geo.html) using Geolocation API watchPosition() method, on Mozilla 3.5. (And this should works similarly on Fennec too. I wish I could try on an actual device!)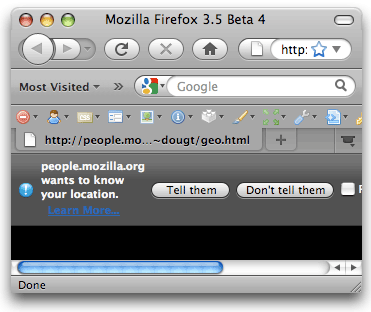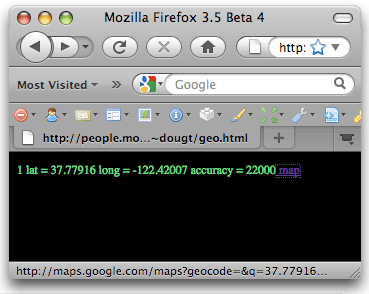 I am using my old PowerBook G4, with Comcast,. Since this Mac is not equipped with GPS device, Firefox gathers information about nearby wireless access points and computer's IP address.
Nice! I can't wait to see this working on iPhone!
Especially, NextMuni.com with location enabled, that tells me where I am and where the nearest bus stop!
---
comments powered by