Tokidoki for Yahoo!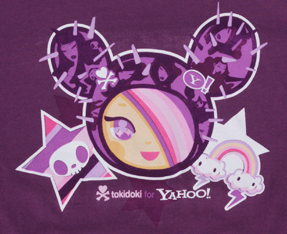 Yay! As a part of "Start Wearing Purple" campaign, Simone Legno has designed the purple Sandy T-shirt for Yahoo! (Yep. Just as most of other Y! tees, this is made by sweat-shop-free American apparel.)
As you can guess by my style, I am actually a fan of the designer and both my Mac and iPhone have Tokidoki wallpapers. (So some guys working for this campaign had tipped off to me about this T-shirt before the launch.)
Also in this campaign movie, he expresses his purple passion!
---
comments powered by